Matched pair Packed in customized, glass-topped, oak storage/display case.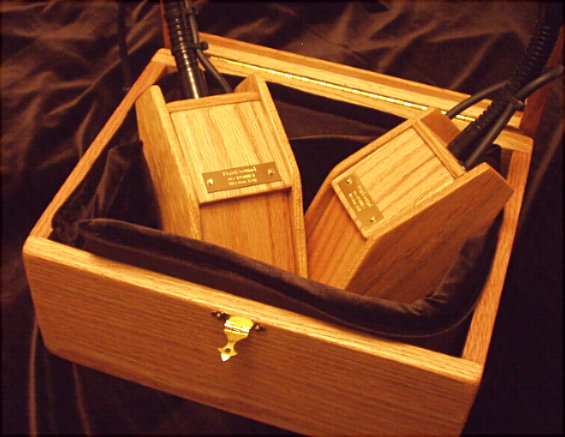 All your 1950s "eggs" in one "Basket"!

These really are "matched" ... inside and out ... note the mirror image woodgrain textures!

Wrapped in "Black Velvet if you please" (actually "Charcoal Velvet") !

"DaviSound ... DS-1950NE1 ... Weston Ray"


I would like to personally acknowledge the efforts of
Weston Ray, Weston House Recording Orangevale, California
WestonHouseRecording.com
for his contributions toward the development
of this new, superior DaviSound DS-1950 microphone design!
Just as Weston was about to order a pair of DS-1950 mics
in their original configuration several years ago ...
I mentioned that I wanted to take some time experimenting with a new cabinet design.
Always patient and obliging, Weston agreed to let his new order serve as the
"guinea pig" project for this new design and he patiently waited through all of the
prototyping, testing, scrapping and reprototyping
until we had finally acheived the fine-tuned perfection we had desired.
Needless to say this involved a wait of MANY months
while all of the various assemblies could be tested, tweaked ...
tested some more and documented along the way!
Building and aligning these hand made wooden microphones is not a quick or easy process.
So, you can imagine, prototyping is much, much worse in this regard.
Still, Weston waited patiently throughout the seemingly, unending process.
Then, after his mics were finally completed, all but their custom paired storage case,
he unselfishly urged us to finish a rush order for one of the new designs, for another client,
while his own order final completion was, once more, put on hold!
So ... as of 2004 when we had arrived at the final, remarkable new design we wanted ...
and other mic orders were starting to pour in ...
the orginal devotee to this new design STILL had not received his innaugural editions!
Well, we are proud to say that, now after all this time, Weston's new mics,
the very first of our final new design, pictured above, have been shipped to him!
And, as of this writing, we are also completing several more housed in Exotic wood cabinets ...
which will be pictured and linked from the DaviSource Microphone area very soon!
All modesty aside, I am very proud of this new MOST UNIQUE microphone design ...
as it looks and performs like no other microphone in the world!
But, I am even more proud of all of our clients like Weston ...
who make our work, and and our resulting unique creations, possible!
Each of them is also VERY uniquely special and like no one else in the world!
Hayne Davis
March, 2005